ThyssenKrupp TurboTrack was a high speed moving walkway model made by ThyssenKrupp.
Overview
This moving walkway is of the pallet type. The pallets "intermesh" with a comb and slot arrangement. They expand out of each other when speeding up, and compress into each other when slowing down. The handrails work in a similar manner. The walkway moves at roughly 2 km/h when riders step onto it, speeds up to approximately 7 km/h for the bulk of the length, and slows to 2 km/h again at the end. One was opened in 2007 at Pier F of Pearson International Airport in Toronto, Canada. This may have been the only one ever installed, possibly making it one of a kind. The TurboTrack was discontinued most likely in the early 2010s.
Videos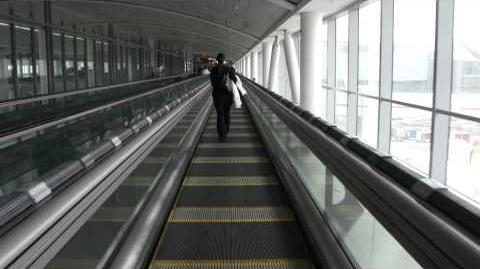 "This elevator only serves two floors."
This article is a stub. You can help Elevatorpedia by expanding it.
Ad blocker interference detected!
Wikia is a free-to-use site that makes money from advertising. We have a modified experience for viewers using ad blockers

Wikia is not accessible if you've made further modifications. Remove the custom ad blocker rule(s) and the page will load as expected.