Sigma Elevator Fixtures Guide
Talk

0
403pages on
this wiki
This is a guide to some fixtures used in Sigma elevator, as well as also applied for Otis in South Korea.
2001 to present
2000s batch of Sigma fixtures (2001 to 2012)
These were the fixtures used in early Sigma elevators since 2001. They had several variations of button but some of them have been discontinued in the early 2010s.
These buttons were originally created and used by LG Elevators from 1997 until 2005, and were reused by Sigma in 2001 and as of today they are still being produced with minor revision. These buttons are rounded rectangular with red illuminating halo and lamp, and are mostly comes with braille. They also came out as flushed or surface mounted type.
These are round metal buttons with red illuminating lamp on the center. Some elevators in the United States are also using these buttons, and equipped with ADA compliant braille and tactile plates next to them (see American fixtures section).
These buttons are square stainless steel with a tiny red triangular lamp on the top-left side of the buttons.
These are round metal polished buttons with grooved side, braille, and amber illuminating halo and floor number and symbols.
Digital segments floor indicators
Sigma continued to produce GoldStar's 1980s inner floor indicators and 1990s hall floor indicator displays and some LG luxury hall lanterns.[1] There are many styles of these indicators, some of them were actually reused from GoldStar and LG. These indicators are usually lights up in orange, but on some late models, the indicators lights up in red.
LED dot-matrix floor indicators
LED dot-matrix floor indicators started in 2005, and are now commonly found in some newer elevators. These indicators have scrolling arrows and their LED color are either red or orange. There are many styles of these indicators.
Hall lanterns
Sigma continued on producing the mid-1990s LG hall lanterns with small revision. These lanterns are round and usually lights up in orange but some lights up in red or green.
Current batch of Sigma fixtures (since 2013)
In 2013, Sigma revised their fixtures by eliminating some of their older button variations. Only the rectangular and round metal buttons remained in production for their current elevator models. Also, most elevators produced since 2013 are using LED dot-matrix with scrolling arrows and for some reason, their traditional digital floor indicators are rarely used nowadays.
MiniTouch
MiniTouch first came out in the late 2000s. This fixture has black mirror polished hall and car station with touch sensitive or square buttons. On the top of the car station there is a LCD display showing floor destinations. There is also a rectangular LCD floor indicator with rotating arrows. This is the only Sigma elevator fixtures that has a name.
Otis fixtures
There are very few Sigma elevators using New Otis fixtures[2].
Xizi Otis fixtures
There are also very few Sigma elevators using fixtures from Xizi Otis
American fixtures
These are the fixtures used in the American Sigma elevators. They are similar to the Asian version, only the round buttons have a red dot lamp on the center instead of illuminating number (except the hall call and door control buttons which have the regular symbol). Sigma elevators used to be distributed by CemcoLift (a subsidiary of Otis) but since that the company has closed down, Sigma elevators are no longer distributed and these fixtures have been discontinued.
Unknown fixtures in Thailand
These fixtures are only found in Thailand. They have stainless steel rectangular buttons with red illuminating halo, and either LED dot-matrix or LCD floor indicators.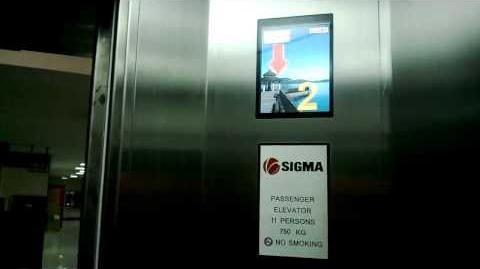 Generic fixtures
Sigma elevators often use generic Dewhurst fixtures in Singapore and Hong Kong, normally using the US90-15 pushbuttons and vandal-resistant floor indicators (in Hong Kong only). Dewhurst chassis also provided.[3]
Chimes and beeps
From the early 2000s, Sigma use two chimes, which sounds once for upward and twice for downward. These chimes were originally introduced by LG Elevators in the very late 1990s. By mid 2000s, the chimes were modified to sound sharper than the original chimes[4], and many elevators have newer chimes which consists of four stages chime for up travel and two stages chime for down travel[5]. Some elevators also have low-pitched version of the original chimes.[6] Sometime in the early 2010s, new version of both four and two stages chimes were introduced, which sounds very similar to SJEC elevators in China.[7][8]
Since 2001, floor buttons emits a beep when they are pressed. However, Sigma elevators installed in the United States do not have floor button beep, instead the beep is used as floor passing chime.
Trivia
Sigma elevators installed in the United States do not have floor button beeps. Instead, the beep is used as floor passing chime.
Note
See Also