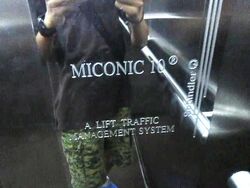 Schindler Miconic 10 was an elevator dispatching system product of Schindler. It was founded in 1992 by Dr. Paul Friedli[1] as the world's first practical destination control system to enchance traffic efficiency.
In 2000, Schindler introduced their second generation destination control system called SchindlerID, which was based on the Miconic 10 but incorporates RFID card reader to check passenger's access rights. The success of Miconic 10 led to the creation of Schindler's third generation of destination dispatch; The PORT Technology in 2009. Both Miconic 10 and SchindlerID was discontinued in 2012 and succeeded by Schindler PORT. However, it is still made for Greece, Hungary, Romania, Slovenia, South America and some Middle East countries.
Overview
Schindler Miconic 10 uses a revolutionary traffic management system that brings people to their destinations faster than any other elevator control. By grouping people traveling to the same floor, Miconic 10 reduces the number of intermediate stops and thereby improves the elevator system efficiency. The control instantly allocates a car. The new control system increases the capacity of elevator groups by up to 50% and significantly reduces overall travel time.
Schindler Miconic 10 have been known to worked on Schindler 7000, Schindler 5400, Schindler NeoLift and few other traction models as an optional feature.
Usage
Instead of "calling a car by pushbutton", the destination floor is put in on a decimal keypad. Passenger will just have to key in their destination floor and the display will quickly shows you which car he/she will board to get to his/her registered floor destination.
Once the passenger on board the car, the door will close automatically, but delayed when another hall call is registered to accomodate more passenger to board the car, or the handicap mode is activated to accomodate wheelchair or disabled passenger. There are two floor destination indicators installed on both side of the inner door frames which displays all of the registered car call destination. Once the car reached at the registered floor, the number on the indicator will flashes, and disappears when the car stops and the doors are open.
Inside the car there are only door open and close buttons, an alarm button, intercom and additional informative warning lamps like overload and emergency operation warning lamps.
Benefits
Advance knowledge of every passenger's destination before they even reach the elevator.
Reduced passenger journey times.
Elimination of crowding during heavy traffic.
Assurance of a dedicated service for people with special needs.
Greater design flexibility for building core configuration.
Notable installations
Main article: List of notable Schindler Miconic 10 elevator installations
Trivia
When the handicap mode is not available in Schindler Miconic 10, the keypad display would show "XX" when the wheelchair button is pressed.
Video
Notes and references
See also
External links
Ad blocker interference detected!
Wikia is a free-to-use site that makes money from advertising. We have a modified experience for viewers using ad blockers

Wikia is not accessible if you've made further modifications. Remove the custom ad blocker rule(s) and the page will load as expected.