SchindlerMobile was a machine room less elevator produced by Schindler. It was Schindler's first machine room less elevator and was available for Europe and Japan.
Overview
SchindlerMobile was introduced on April 15, 1997 in Munich, Germany. It was a self-propelled elevator where a motor mounted under the cab turns large friction wheels to raise or lower the elevator car. It needs no machine room, no suspension ropes, and no hoistway walls. It is only for low-rise buildings and mostly comes with center opening telescopic landing doors. It is also mostly comes in one-group control. The SchindlerMobile was made from 1996 to 2001. It was discontinued in 2001 and replaced by Schindler EuroLift.
This elevator has fixtures and control that looks very similar to Miconic 10. Before entering the elevator car, passenger had to type their floor destination on a decimal keypad. Inside the car there are only door control and alarm buttons, and floor indicator.
Notable installations
Boots (16-17 Tottenham Court Road), London, United Kingdom
Maria-Theresie-Strasse 5, Innsbruck, Austria
Moncucco Clinic (Block C), Lugano, Switzerland
Engadinstrasse 2, Chur, Switzerland
5 Chome-9-9 Hiroo, Shibuya, Tokyo, Japan
Stadtteilbibliothek (District Library), Rheydt, Mönchengladbach, Germany
Gallery
Video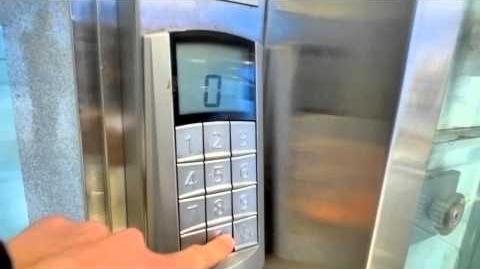 See also
Schindler Smart MRL - another machine room less elevator produced by Schindler in the late 1990s.
External links
"This elevator only serves two floors."
This article is a stub. You can help Elevatorpedia by expanding it.
Ad blocker interference detected!
Wikia is a free-to-use site that makes money from advertising. We have a modified experience for viewers using ad blockers

Wikia is not accessible if you've made further modifications. Remove the custom ad blocker rule(s) and the page will load as expected.