Kone MonoSpace

Kone MonoSpace 3000 elevators in Bali, Indonesia.

Also known as

Toshiba Order-Spacel

Manufacturer

Kone, GiantKONE and MacGregor-Kone

Production

1996-present

Type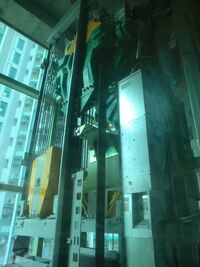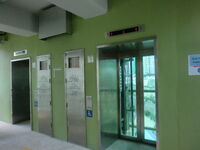 Kone MonoSpace is the machine room less traction elevator product line of Kone, GiantKONE and MacGregor-Kone[2]. The version of MonoSpace for low-rise installations in the United States is called Kone EcoSpace and it is a replacement for hydraulic elevators since Kone discontinued making hydraulic elevators in 2007, although the EcoSpace was introduced before Kone hydraulic elevators were discontinued; the MonoSpace is retained for mid-rise buildings.
History
The Kone MonoSpace elevator technology was introduced in 1996[3] as the world's first machine room less elevator. Since it's introductions, it has becoming more popular at the beginning of the 21st century. They are mainly found in the United Kingdom, Hong Kong, and other European and Asian countries[4].
In 1998, when Kone entered the Japanese market by creating a strategic alliance with Toshiba Elevators and Building Systems Corporation, Toshiba began marketing Spacel (the another product is Order-Spacel, which is their version of Kone MonoSpace); a machine room less elevator system based on the Kone EcoDisc technology and only sold in Japan[5]. In 1999, a total of more than 2,500 Spacel elevators were sold[6].
The current MonoSpace series produced in Europe are MonoSpace 300 (only sold in Finland), MonoSpace 500 and MonoSpace 700. The MonoSpace 500[7] and 700[8] are also sold in the United States and Canada. These models were most likely introduced in 2012, but the Kone MonoSpace 500 was introduced to the U.S. and Canada in 2016[9]. In Asia Pacific, Africa and Middle East, the current MonoSpace series produced are MonoSpace 3000 and MonoSpace 3000S. Nowadays the MonoSpace 3000 is divided into three types; E MonoSpace (this type is not sold in Africa and Middle East), N MonoSpace and S MonoSpace. There is also a version of MonoSpace for existing buildings for the North American market called MonoSpace 500 EB[10].
Features
EcoDisc motor
Main article: Kone EcoDisc
Regenerative Drive
The MonoSpace elevator features a Regenerative Drive (for the second generation of LCE controllers or later only), which is able to convert excess energy generated by an elevator into electricity that can be reused by any other component found in the building. While normal elevator systems only produce excess heat that has to be removed from the building (using up even more energy), the Regenerative Drive instead not only reduces electricity consumption, but also makes the excess usable. Very little, if at all, excess energy is wasted. There are many versions of this technology made by other big elevator companies, but Kone has taken the spotlight due to its efficiency and popularity.
Benefits
Detriments
Specs
Europe
Asia Pacific
United States
Notable installations
Main article: List of notable Kone MonoSpace elevator installations
Trivia
Gallery
Videos
Note
External links