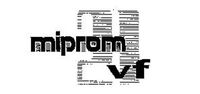 Kone Miprom 21 vf is a Montgomery/Montgomery KONE/Kone AC traction elevator controller. This controller was succeeded by the LCE controller.
Overview
This is an AC variable voltage, variable frequency elevator controller. The controller can come with IPD, which is an interactive "windows environment", or T.E.D. 9.3, which is a non-interactive "windows environment". This controller was used from ?/1998-2001/2002.
"This elevator only serves two floors."
This article is a stub. You can help Elevatorpedia by expanding it.
Ad blocker interference detected!
Wikia is a free-to-use site that makes money from advertising. We have a modified experience for viewers using ad blockers

Wikia is not accessible if you've made further modifications. Remove the custom ad blocker rule(s) and the page will load as expected.